1. september 2013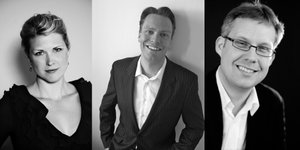 BENJAMIN BRITTEN 100 ÅR
MARIA KONTRA (mezzo-sopran)
MATHIAS HEDEGAARD (tenor)
SØREN PEDERSEN (klaver)
Denne koncert er en hyldest til en stor komponist, en af de største i det tyvende århundrede – englænderen Benjamin Britten. Han ville i år være fyldt hundrede år, så vi synes at der er anledning. De to sangere og pianisten har sammensat et varieret og smukt program med værker af denne fantastiske komponist. Fra de bibelsk inspirerede Canticles over den dramatiske kantate Phaedra til virtuose og humoristiske sange i On this Island, samt en samling charmerende vuggeviser! Programmet indeholder vidunderlige melodier, men rummer samtidig en masse dramatik. En oplagt måde at markere denne betydningsfulde komponist på.
Og så har vi været så heldige at kunne engagere forfatteren Jørgen I. Jensen der vil fortælle os om Benjamin Britten og hans musik. Det er ikke første gang Jørgen I. Jensen gæster os, og han har hver gang vist sig som en spændende og levende foredragsholder.
Altså:
FOREDRAG KL. 13.30
KONCERT KL. 15.00
Læs mere om Benjamin Britten her
Billetsalget starter kl. 14.
Entre 150 kr (medlemmer 100 kr, unge under 25 gratis)
På Fuglsang Kunstmuseum kan der på dagen indtil kl 14 købes en combi-billet til museum og koncert for 175 kr.
Program:
Benjamin Britten
Canticle I "My beloved is mine", opus 40
(1913-1976) Tekst: Francis Quarles (1947)
Phaedra, opus 93, Tekst: Robert Lowell efter Racine's Phèdre (1975)
1. In May, in brilliant Athens
2. Oh Gods of wrath
3. My time's too short, your highness
On this Island, opus 11, Tekst: W. H. Auden (1937)
1. Let the florid music praise
2. Now the leaves are falling fast
3. Seascape: Look, stranger
4. Nocturne: Now through night's caressing grip
5. As it is plenty
PAUSE
Charm of Lullabies, opus 41 (1947)
A Cradle Song (Tekst: William Blake)
The Highland Balou (Tekst: Robert Burns)
Sephestia's Lullaby (Tekst: Robert Greene)
A Charm (Tekst: Thomas Randolph)
The Nurse's Song (Tekst: John Phillip)
Canticle II "Abraham and Isaac" for alt og tenor, opus 51
Tekst: 15th century Chester Miracle Play (1952)
*********************************************************************************************************************************************
Tekster:
Canticle I, op. 40 "My beloved is mine"
Ev'n like two little bank-divided brooks,
That wash the pebbles with their wanton streams,
And having rang'd and search'd a thousand nooks,
Meet both at length at silver-breasted Thames,
Where in a greater current they conjoin:
So I my best-beloved's am; so he is mine.
Ev'n so we met; and after long pursuit,
Ev'n so we joyn'd; we both became entire;
No need for either to renew a suit,
For I was flax and he was flames of fire:
Our firm-united souls did more than twine;
So I my best-beloved's am; so he is mine.
If all those glitt'ring Monarchs that command
The servile quarters of this earthly ball,
Should tender, in exchange, their shares of land,
I would not change my fortunes for them all:
Their wealth is but a counter to my coin:
The world's but theirs; but my beloved's mine.
Nay, more; If the fair Thespian Ladies all
Should heap together their diviner treasure:
That treasure should be deem'd a price too small
To buy a minute's lease of half my pleasure;
'Tis not the sacred wealth of all the nine
Can buy my heart from him, or his, from being mine.
Nor Time, nor Place, nor Chance, nor Death can bow
My least desires unto the least remove;
He's firmly mine by oath; I his by vow;
He's mine by faith; and I am his by love;
He's mine by water; I am his by wine,
Thus I my best-beloved's am; thus he is mine.
He is my Altar; I, his Holy Place;
I am his guest; and he, my living food;
I'm his by penitence; he mine by grace;
I'm his by purchase; he is mine, by blood;
He's my supporting elm; and I his vine;
Thus I my best beloved's am; thus he is mine.
He gives me wealth; I give him all my vows:
I give him songs; he gives me length of dayes;
With wreaths of grace he crowns my longing brows,
And I his temples with a crown of Praise,
Which he accepts: an everlasting signe,
That I my best-beloved's am; that he is mine.
Phaedra, op. 93
PROLOGUE
In May, in brillant Athens, on my marriage day
I turned aside for shelter from the smile of Theseus.
Death was frowning in an aisle – Hippolytus!
I saw his face, turned white!
RECITATIVE
My lost and dazzled eyes saw only night.
Capricious burnings flickered through my bleak, abandoned flesh.
I could not breathe or speak, I faced my flaming executioner; Aphrodite, my mother's murderer!
I tried to calm her wrath by flowers and praise,
I build her a temple, fretted months and days on decoration.
Alas my hungry open mouth thirsting with adoration, tasted drought. Venus resigned her altar to my new lord.
PRESTO
(to Hippolytus)
You monster! You understood me to well, why do you hang there, speechless, petrified, polite!
My mind whirls.
What have I to hide?
Phaedra, in all her madness stands before you.
I love you. Fool I love you. I adore you.
Do not imagine that my mind approved my first defection, Prince,
Or that I loved your youth, your youth light-heartedly, and fed my treason with cowardly compliance, till I lost my reason.
Alas! My violence to resist you made my face inhuman, hateful.
I was afraid to kiss my husband lest I love his son.
I made you fear me, (this was easily done);
You loathed me more, I ached for you no less.
Misfortune magnified your loveliness.
The wife of Theseus loves Hippolytus, see Prince!
Look, this monster, ravenous for her execution, will not flinch!
I want your sword's spasmodic, final inch!
RECITATIVE
(To Oenone)
O! Gods of wrath, how far I've travelled on my dangerous path.
I go to meet my husband; at his side will stand Hippolytus.
How shall I hide my thick, adulterous passion for this youth, who has rejected me
and knows the truth.
Will he not draw his sword and strike me dead?
Suppose he spares me?
What if nothing said? Can I kiss Theseus with dissembled poise?
The very dust rises to disabuse my husband – to defame me and accuse!
Oenone, I want to die! Death will give me freedom; O it's nothing not to live, death to the unhappy's no catastrophe!
LIVELY
(To Theseus)
My time's to short, your highness.
It was I who lusted for your son with my hot eye.
The flames of Aphrodite maddened me.
Then Oenones tears troubled my mind; she played upon my fears until her pleading forced me to declare I loved your son.
Theseus I stand before you to absolve your noble son.
Sire, only this resolve upheld me, and made me throw down my knife I've chosen a slower way to end my life – Medeas poison;
Chills already darts along my boiling veins and squeeze my heart,
A cold composure I have never known gives me a moment's poise.
I stand alone and seem to see my outraged husband fade and waver into death's dissolving shade.
My eyes at last give up their light, and see the day they've soiled resume its purity.
On this Island, op. 11
Let the Florid Music Praise
Let the florid music praise,
The flute and the trumpet,
Beauty's conquest of your face:
In that land of flesh and bone,
Where from citadels on high
Her imperial standards fly,
Let the hot sun
Shine on, shine on.
O but the unlov'd have had power,
The weeping and striking,
Always; time will bring their hour:
Their secretive children walk
Through your vigilance of breath
To unpardonable death,
And my vows break
Before his look.
Now the Leaves are Falling Fast
Now the leaves are falling fast,
Nurse's flowers will not last;
Nurses to the graves are gone,
And the prams go rolling on.
Whisp'ring neighbours, left and right,
Pluck us from the real delight;
And the active hands must freeze
Lonely on the sep'rate knees.
Dead in hundreds at the back
Follow wooden in our track,
Arms raised stiffly to reprove
In false attitudes of love.
Starving through the leafless wood
Trolls run scolding for their food;
And the nightingale is dumb,
And the angel will not come.
Cold, impossible, ahead
Lifts the mountain's lovely head
Whose white waterfall could bless
Travellers in their last distress.
Seascape
Look, stranger, at this island now
The leaping light for your delight discovers,
Stand stable here
And silent be,
That through the channels of the ear
May wander like a river
The swaying sound of the sea.
Here at the small field's ending pause
Where the chalk wall falls to the foam, and its tall ledges
Oppose the pluck
And knock of the tide,
And the shingle scrambles after the sucking surf, and the gull lodges
A moment on its sheer side.
Far off like floating seeds the ships
Diverge on urgent voluntary errands;
And the full view
Indeed may enter
And move in memory as now these clouds do,
That pass the harbour mirror
And all the summer through the water saunter.
Nocturne
Now through night's caressing grip
Earth and all her oceans slip,
Capes of China slide away
From her fingers into day
And th' Americas incline
Coasts towards her shadow line.
Now the ragged vagrants creep
Into crooked holes to sleep:
Just and unjust, worst and best,
Change their places as they rest:
Awkward lovers like in fields
Where disdainful beauty yields:
While the splendid and the proud
Naked stand before the crowd
And the losing gambler gains
And the beggar entertains:
May sleep's healing power extend
Through these hours to our friend.
Unpursued by hostile force,
Traction engine, bull or horse
Or revolting succubus;
Calmly till the morning break
Let him lie, then gently wake.
As it is, plenty
As it is, plenty;
As it's admitted
The children happy
And the car, the car
That goes so far
And the wife devoted:
To this as it is,
To the work and the banks
Let his thinning hair
And his hauteur
Give thanks, give thanks.
All that was thought
As like as not, is not
When nothing was enough
But love, but love
And the rough future
Of an intransigent nature
And the betraying smile,
Betraying, but a smile:
That that is not, is not;
Forget, forget.
Let him not cease to praise
Then his spacious days;
Yes, and the success
Let him bless, let him bless:
Let him see in this
The profits larger
And the sins venal,
Lest he see as it is
The loss as major
And final, final.
A Charm of Lullabies
A Cradle Song
Sleep, sleep, beauty bright,
Dreaming o'er the joys of night;
Sleep, sleep, in thy sleep
Little sorrows sit and weep.
Sweet babe, in thy face
Soft desires I can trace,
Secret joys and secret smiles,
Little pretty infant wiles.
O! the cunning wiles that creep
In thy little heart asleep.
When thy little heart does wake
Then the dreadful lightnings break,
From thy cheek and from thy eye,
O'er the youthful harvests nigh.
Infant wiles and infant smiles
Heaven and Earth of peace beguiles.
The Highland Balou
Hee Balou, my sweet wee Donald,
Picture o' the great Clanronald!
Brawlie kens our wanton Chief
What gat my young Highland thief.
(Hee Balou!)
Leeze me on thy bonnie craigie!
And thou live, thou'll steal a naigie,
Travel the country thro' and thro' ,
and bring hame a Carlisle cow!
Thro' the Lawlands, o'er the Border,
Weel, my babie, may thou furder!
Herry the louns o' the laigh Countrie,
Syne to the Highlands hame to me!
Sephestia's Lullaby
Weep not, my wanton, smile upon my knee;
When thou art old there's grief enough for thee.
Mother's wag, pretty boy,
Father's sorrow, father's joy;
When thy father first did see
Such a boy by him and me,
He was glad, I was woe;
Fortune changed made him so,
When he left his pretty boy,
Last his sorrow, first his joy.
Weep not, my wanton, smile upon my knee;
When thou art old there's grief enough for thee.
The wanton smiled, father wept,
Mother cried, baby leapt;
More he crow'd, more we cried,
Nature could not sorrow hide:
He must go, he must kiss
Child and mother, baby bliss,
For he left his pretty boy,
Father's sorrow, father's joy.
Weep not, my wanton, smile upon my knee,
When thou art old there 's grief enough for thee.
A Charm
Quiet!
Sleep! or I will make
Erinnys whip thee with a snake,
And cruel Rhadamanthus take
Thy body to the boiling lake,
Where fire and brimstones never slake;
Thy heart shall burn, thy head shall ache,
And ev'ry joint about thee quake;
And therefore dare not yet to wake!
Quiet, sleep!
Quiet, sleep!
Quiet!
Quiet!
Sleep! Or thou shalt see
The horrid hags of Tartary,
Whose tresses ugly serpents be,
And Cerberus shall bark at thee,
And all the Furies that are three
The worst is called Tisiphone,
Shall lash thee to eternity;
And therefore sleep thou peacefully
Quiet, sleep!
Quiet, sleep!
Quiet!
The Nurse's Song
Lullaby baby,
Lullaby baby,
Thy nurse will tend thee as duly as may be.
Lullaby baby!
Be still, my sweett sweeting, no longer do cry;
Sing lullaby baby, lullaby baby.
Let dolours be fleeting, I fancy thee, I …
To rock and to lull thee I will not delay me.
Lullaby baby,
Lullabylabylaby baby,
Thy nurse will tend thee as duly as may be
Lullabylabylaby baby
The gods be thy shield and comfort in need!
The gods be thy shield and comfort in need!
Sing Lullaby baby,
Lullabylaby baby
They give thee good fortune and well for to speed,
And this to desire … I will not delay me.
This to desire … I will not delay me.
Lullaby lullabylaby baby,
Thy nurse will tend thee as duly as may be.
Lullabylabylabylaby baby.
Canticle II "Abraham and Isaac"
God speaks:
Abraham, my servant, Abraham,
Take Isaac, thy son by name,
That thou lovest the best of all,
And in sacrifice offer him to me
Upon that hill there besides thee.
Abraham, I will that so it be,
For aught that may befall.
Abraham:
My Lord, to Thee is mine intent
Ever to be obedient.
That son that Thou to me hast sent
Offer I will to Thee.
Thy bidding done shall be.
(Here Abraham, turning him to his son Isaac, saith:)
Make thee ready, my dear darling,
For we must do a little thing.
This woodë do on thy back it bring,
We may no longer abide.
A sword and fire that I will take,
For sacrifice behoves me to make;
God's bidding will I not forsake,
But ever obedient be.
(Here Isaac speaketh to his father, and taketh a bundle of
sticks and beareth after his father, and saith:)
Isaac:
Father, I am all ready
To do your bidding most meekely,
And to bear this wood full bayn am I,
As you commanded me.
(Here they both go to the place to do sacrifice)
Abraham:
Now, Isaac son, go we our way
To yonder mount if that we may.
Isaac:
My dear father, I will essay
To follow you full fain.
(Abraham being minded to slay his son Isaac, lifts up his
hands, and saith the following:)
Abraham:
O! My heart will break in three,
To hear thy words I have pitye;
As Thou wilt, Lord, so must it be,
To Thee I will be bayn.
Lay down thy faggot, my own son dear.
Isaac:
All ready, father, lo it is here.
But why make you such heavy cheer?
Are you anything adread?
Abraham:
Ah! Dear God! That me is woe!
Isaac:
Father, if it be your will,
Where is the beast that we shall kill?
Abraham:
Thereof, son, is none upon this hill.
Isaac:
Father, I am full sore affeared
To see you bear that drawnë sword.
Abraham:
Isaac, son, peace, I pray thee,
Thou breakest my heart even in three.
Isaac:
I pray you, father, layn nothing from me,
But tell me what you think.
Abraham:
Ah! Isaac, Isaac, I must thee kill!
Isaac:
Alas! Father, is that your will,
Your owne child for to spill
Upon this hilles brink?
If I have trespassed in any degree
With a yard you may beat me;
Put up your sword, if your will be,
For I am but a child.
Would God my mother were here with me!
She would kneel down upon her knee,
Praying you, father, if it may be,
For to save my life.
Abraham:
O Isaac, son, to thee I say
God hath commanded me today
Sacrifice, this is no nay,
To make of thy bodye.
Isaac:
Is it God's will I shall be slain?
Abraham:
Yea, son, it is not for to layn.
(Here Isaac asketh his father's blessing on his knees, and saith:)
Isaac:
Father, seeing you mustë needs do so,
Let it pass lightly and over go;
Kneeling on my knees two,
Your blessing on me spread.
Abraham:
My blessing, dear son, give I thee
And thy mother's with heart free.
The blessing of the Trinity,
My dear Son, on thee light.
(Here Isaac riseth and cometh to his father, and he taketh him,
and bindeth and layeth him upon the altar to sacrifice him, and saith:)
Come hither, my child, thou art so sweet,
Thou must be bound both hands and feet.
Isaac:
Father, do with me as you will,
I must obey, and that is skill,
Godës commandment to fulfil,
For needs so it must be.
Abraham:
Isaac, Isaac, blessed must thou be.
Isaac:
Father, greet well my brethren ying,
And pray my mother of her blessing,
I come no more under her wing,
Farewell for ever and aye.
Abraham:
Farewell, my sweetë son of grace!
(Here Abraham doth kiss his son Isaac, and binds a kerchief about his head.)
Isaac:
I pray you, father, turn down my face,
For I am sore adread.
Abraham:
Lord, full loth were I him to kill!
Isaac:
Ah, mercy, father, why tarry you so?
Abraham:
Jesu! On me have pity,
That I have most in mind.
Isaac:
Now, father, I see that I shall die:
Almighty God in majesty!
My soul I offer unto Thee!
Abraham:
To do this deed I am sorrye.
(Here let Abraham make a sign as tho' he would cut off his son
Isaac's head with his sword; then…)
God speaks:
Abraham, my servant dear,
Lay not thy sword in no manner
On Isaac, thy dear darling.
For thou dreadest me, well wot I,
That of thy son has no mercy,
To fulfil my bidding.
Abraham:
Ah, Lord of heaven and King of bliss,
Thy bidding shall be done, i-wiss!
A horned wether here I see,
Among the briars tied is he,
To Thee offered shall he be
Anon right in this place.
(Then let Abraham take the lamb and kill him.)
Sacrifice here sent me is,
And all, Lord, through Thy grace.
Envoi:
Such obedience grant us, O Lord!
Ever to Thy most holy word.
That in the same we may accord
At this Abraham was bayn;
And then altogether shall we
That worthy King in heaven see,
And dwell with Him in great glorye
For ever and ever. Amen.